When we think of gemstones and gemstones, we often associate them with heritage, longevity, or sentimentality. Colored gemstones as an alternative to investing money at a young age? Diamonds may be forever, but young adults are unsettled when it comes to real asset investments – in conversation with Dr. Thomas Schröck, gemologist and author from Vienna
Young adults have to make groundbreaking decisions: training, studying, owning an apartment, traveling, but also the subject of financial investments comes up at some point. When it comes to our own finances, asset accumulation and initial investments, we young adults often feel overwhelmed and are at the same time put off by the reputation with its narrow-mindedness, boredom and the dustiness of "before". We young adults look for independence with a high degree of security and, please, without boredom. Can the financial industry fulfill this wish with suitable offers? There are many financial tips for our age group: Grandma and grandpa, parents, aunts and uncles, best friends and even the Internet have a multitude of tips ready:
Watch out for the nest egg!
Think about retirement planning!
Don't forget your medium-term goals!
"I am finally on the move and want to start my new life at full throttle, that there is only one time and now I should think about nest egg, old-age provision and medium-term goals? How amazing is that?" – Most of my peers react like this or something like that. Nevertheless, we are all looking for security and although we are willing to take risks, this risk appetite often stops with money.
Today I am talking to the gemologist Dr. Thomas Schröck, who has been in the international gemstone trade for over 30 years. He has been fascinated by the precious stones from Mother Nature's lap since he was six and shares this fascination as a lecturer and author. Dr. Thomas Schröck founded The Natural Gem GmbH, which is located in the heart of the DACH region in Vienna, directly across from the Vienna Opera. The question asked by young people is: "Does an investment in gemstones make sense for us too?" Nowadays, we can find cheap and affordable jewelry at almost every fast fashion company. These pieces are often more trendy and pocket-friendly than gemstones. Still, is there a teenage gem market? Are young people just as fascinated by diamonds, rubies, sapphires and saragds as the older generations? Dr. Thomas Schröck on this: "First of all, thank you very much for asking me exactly these questions. Yes, gemstones are suitable from a young age, but should only constitute part of the investment portfolio. The average increase in value depending on the type of gemstone averaged four to eight percent over the last two decades, but the gemstone portfolio should be held for at least five years. The world of gemstones is my passion, as a lecturer I am allowed to teach this passion to young adults, everyone who comes into contact with it is infected. Gemstones are one of the oldest forms of investment known to man and win the hype. Natural and untreated gemstones are unique, rare and have a special beauty. "
Should you be selling your precious rocks to teenagers and young people?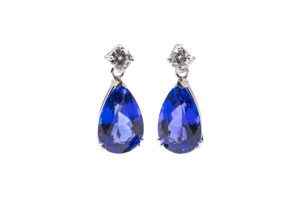 When we consider precious stones and gemstones, we often associate them with heritage, longevity, or sentimentality. Diamonds might be forever, but their luxury prices can scare the average teenager.
Today we can find cheap and accessible jewellery at almost every fast-fashion corporation. These pieces are frequently trendier and more pocket money friendly than precious stones. Nevertheless, is there a gemstone market for teenagers? Are young people as captivated by diamonds and rubies as the older generations?
A growing sustainability problem
In September of 2019, around 7.6 million people went on climate strikes around the world. They were protesting the devastating effects of climate change, hoping to see action from businesses to save our planet. In fact, since 2018, there have been countless school strikes to bring attention to the problems. These protests reverberated around the world and were significant to teenagers and young adults. Interestingly, one of the main targets of attack was the fast-fashion industry.
Fast fashion focuses on keeping up with trends and pushing items into the market as quickly and cheaply as they can. Goods are often produced in unethical working conditions and in an environmentally unfriendly way. As a result, there has been a recent movement towards sustainability.
A lifetime supply of precious rocks
In response to the problem of fast fashion, people are increasingly looking towards more sustainable options. With this, people are willing to pay more for things that last longer. Sustainability movements could mean good things for the precious stones industry.
In industries dealing with valuable rocks, people have to put a lot of time, expertise, and experience into creating new products. With more people focusing on the importance of lifelong commodities rather than how fashionable it is, more individuals can buy sustainable and unique pieces.
The tradition of gemstones
Teenagers and young adults often associate precious rocks with family tradition and sentimentality. Many people, especially young ones, with jewels have had them passed down in the form of rings and necklaces for weddings, birthdays, and anniversaries. These practices have then become traditions that have continued through generations. We can also see this with precious rocks which have bequeathed to an individual through inheritance. Whether receiving a grandmother's diamond earring or a great-grandfather's studded watch, there seems to be a correlation between precious rocks and sentimentality amongst the youth.
The investment power of grandma's bracelet
Precious rocks as jewellery are attractive not only for their beauty but also for their investment power. They are stable in their worth and stay in families from generation to generation. Expensive and rare jewels are a good investment choice while serving as a beautiful accessory.
Precious rock investors are no longer just for a niche group of older people. Even the younger generation knows the investment power of jewels today, and they are taking advantage of it!
The mental game of crystals
Interestingly, there has been an increasing attraction to the power of crystals. Healing crystals are known to have different properties to help with mental and physical health. Crystals even have a dedicated page on Healthline. Many young people have bought semi-precious gemstones and crystals such as quartz, jasper, or citrine.
This trend links heavily with the sustainability and more 'natural' movement we are currently seeing.
While there seems to be a market for precious stones amongst teenagers and young adults- they probably won't be the ones buying the jewels!
Young people appreciate the sentimental and monetary value of precious stones. There is a market opportunity within this forgotten age group within the industry. Nonetheless, with prices soaring past affordability for a young person to pay themselves, we can assume that they probably aren't the people buying the product.
Marketing should be looking towards the parents of teenage children and selling gemstones based on celebration or sentimentality. Luckily, because the gemstone industry values the quality and longevity of its products, more people are interested in buying gemstones. Jewellers are constantly creating unique items that are very different from the cheap plastic necklaces from chain stores. We can expect young people to be as transfixed by a ruby or diamond as any generation before them.
Conclusion: assumption of responsibility – sustainability a cycle from the decision, use to return
In industries that deal with valuable stones, people have to invest a lot of time, specialist knowledge and experience in the development of new products. The doctor of economics and internationally (including Switzerland, USA, India) trained gemologist is an expert in natural-colored, untreated gemstones and investments in them throughout Europe. His bestseller "EDELSTEINE ALS INVESTMENT", published in 2017, is the first book to provide profound insights into the world of the most valuable stones in the world. It deals with both mineralogical and historical aspects of gemstones, explains what to look out for and gives an overview of price developments. If more people focus on the importance of lifelong commodities instead of how fashionable they are, the change to lived sustainability is achievable and the reward in this industry is uniqueness.
V.i.S.d.P.:
Morgan Woodward
Student & Blogger
Contact:
The Natural Gem GmbH
Walfischgasse 7 Top 10
1010 Wien
Österreich
(+)43 1 512 41 89
office@thenaturalgem.com
www.thenaturalgem.com
About The Natural Gem GmbH:
Dr. Thomas Schröck has been a gemstone expert and managing partner of The Natural Gem GmbH, based in Vienna, Austria, for over 30 years. He wrote the work "Precious stones as an investment: Der GEWINN-Ratgeber", Dr. Georg Wailand (editor), author: Dr. Thomas Schröck.
Press contact:
Lobmeyr Public Image Conciliaris GmbH
Rudolph Lobmeyr
Am Hof 11, Top 4
1010 Wien
Österreich
+43 (0) 1 / 361 55 00
r.lobmeyr@l-pi.eu
http://www.l-pi.eu