A look into the future of energy production and the strategic importance of independence in the Baltic European region – Europe on the way to independence: renewable energies such as offshore wind energy as a solution.
The energy transition is undoubtedly one of the most pressing issues of our time. Europe has recognized that a sustainable future can only be ensured by switching to renewable energies and innovative technologies. In this context, the EU Baltic Sea countries have joined forces to increase their focus on offshore wind energy and reduce their dependence on Russian oil and gas. At a landmark meeting, the Baltic Energy Security Summit, representatives from Denmark, Sweden, Estonia, Lithuania, Finland, Latvia, Poland and Germany signed the Marienborg Declaration 2019 in Marienborg, Denmark. This declaration lays the foundation for cross-border projects to pave the way to an energy-independent future.
Offshore wind energy: Europe's answer to energy security
The eight EU countries have made a firm commitment to develop offshore wind energy and jointly implement projects to generate electricity and green hydrogen. An ambitious target aims to increase the current offshore wind energy capacity in the European Baltic Sea region to 20 gigawatts (GW) by 2030. A look into the future shows an impressive potential of up to 93 GW for offshore wind energy in this region. "Faster approval procedures and a balance between economic and environmental needs are at the heart of the effort," emphasizes Jörg Trübl, CEO of the MABEWO Group of Companies, underlining the determination of the Baltic Sea countries. The example of Estonia is convincing for a sustainable conversion with renewable energies through wind power. "The country with its 1.3 million inhabitants comes to about 3,800 kilometers of coastline and thus fulfills a lot of potential for offshore plants," says Trübl. Estonia is focusing more on renewable energies, and they already account for a third of the Estonian electricity market. But Lithuania is also taking a clear path toward independent energy supply. A prime example is the LNG terminal in the Lithuanian port city of Klaipėda, which went into operation at the end of 2014, giving Lithuania another step on the road to independence.
Cross-border projects as the key to energy autonomy
The importance of cross-border renewable energy projects cannot be underestimated. The European Commission is making €5.6 billion available from the NextGeneration EU program to support the development of offshore and onshore wind energy. "Hybrid projects that save space and reduce costs are crucial," said Ursula von der Leyen, president of the European Commission. These projects will be prioritized, paving Europe's way to a sustainable energy future.
Pioneers in the energy market: The commitment of the MABEWO Group
The commitment and competence of cross-border environmental experts and European companies are unmistakable. European leaders in politics, society and business, such as the MABEWO Group, are passionately committed to the expansion of renewable energy. "The relevance of such hybrid projects cannot be overstated in light of the current tensions in the energy market," Trübl emphasizes, adding that expertise and a visionary approach are leading the way for Europe's energy future.
MABEWO BLUE PLANET AG specializes in the development and application of innovative technologies in the field of renewable energies. The company's mission is clear: to set new standards in innovation and economic efficiency and to have a sustainable impact on the expansion of these forward-looking technologies. With passion and expertise, the company develops new markets and project locations together with committed partners. Here, the focus is on combining energy production and use to ensure efficient and sustainable energy generation. Particular attention is paid to reducing CO2 and CH4 emissions in order to make an active contribution to climate protection.
The Baltic region: an energy hub with potential
The Baltic Sea is increasingly coming into focus as a promising energy hub. The three Baltic states – Lithuania, Latvia and Estonia – have recognized that together they can revolutionize energy supply in Europe. Hydrogen production in the Baltics in particular opens up new perspectives in the decarbonization of energy-intensive sectors.
Hydrogen: key to decarbonization
Hydrogen is at the heart of efforts to create a sustainable future. The Baltic region offers ideal conditions for hydrogen production. By switching to hydrogen, energy-intensive sectors such as industry, transport and heating can drastically reduce their CO₂ emissions. The Baltic states are focusing on green hydrogen production at competitive prices.
Jörg Trübl emphasizes that the Baltic states are united by a common vision for the energy future. Investments and cooperation are flowing into the expansion of the hydrogen infrastructure. The European Union supports these efforts and recognizes the Baltic states as key partners for a decarbonized energy future.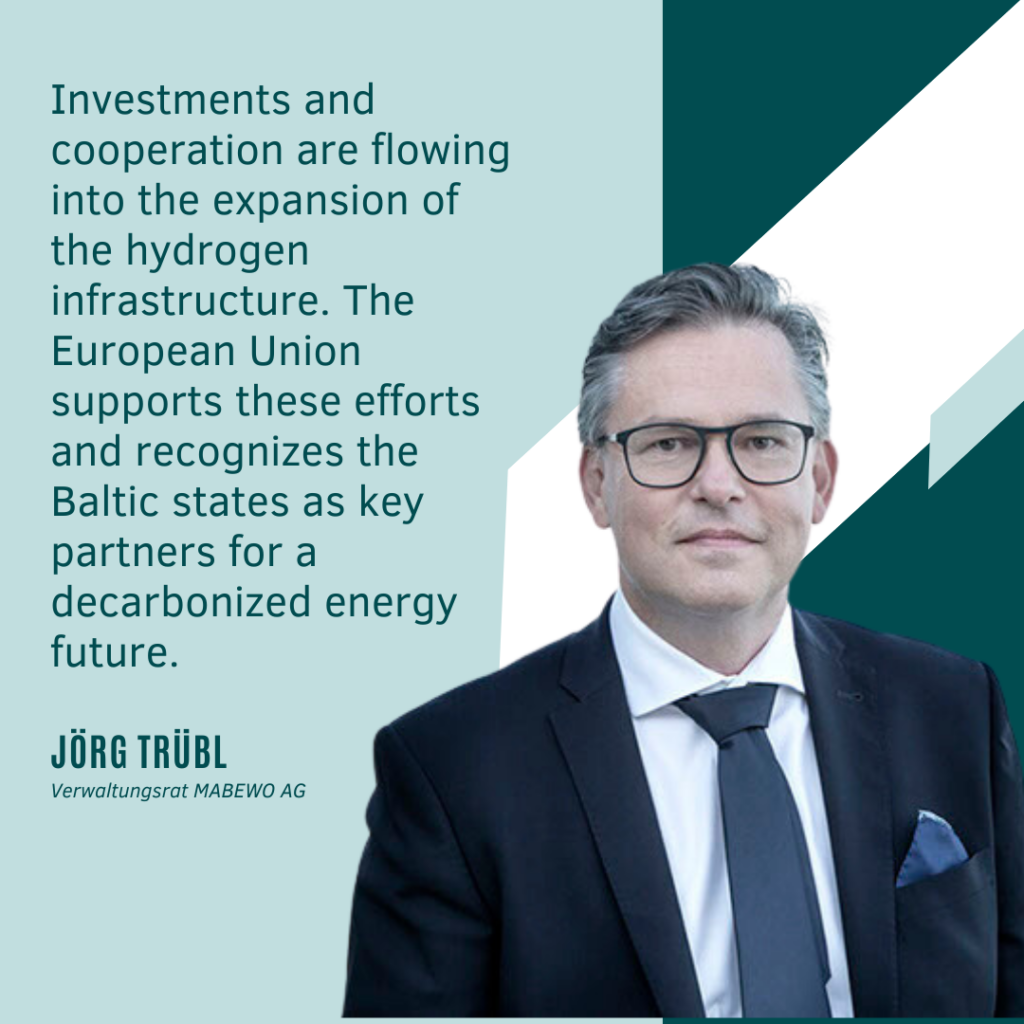 Seizing opportunities: Baltics as pioneers in the green energy transition
The future of the Baltics as a hydrogen trendsetter is promising. Investors, companies and governments should recognize the opportunities that exist in the Baltic Sea. The time has come to actively shape a sustainable and decarbonized energy future.
Overall, it can be said that Europe is boldly moving towards an energy-independent future. The partnership of the EU Baltic Sea countries and the pioneering projects show that the transformation of Europe with renewable energies and technological innovation is possible. The Baltic region is contributing significantly to decarbonization and paving the way for a sustainable energy future.
Responsible in terms of the press:
Dr. Rainer Schreiber
private lecturer and blogger
Contact:
MABEWO AG
Chli Ebnet 3
CH-6403 Küssnacht/Rigi
Switzerland
Telefon +41 41 817 72 00
E-Mail: info@mabewo.com
Represented by Mr. Jörg Trübl
Press contact:
MABEWO AG
Andreas Angel
Chli Ebnet 3
CH-6403 Küssnacht/Rigi
Switzerland
Telefon +41 41 817 72 00
E-Mail: presse@mabewo.com
MABEWO Group of Companies – "One strong roof bundles competence":
MABEWO BLUE PLANET AG was founded in 2020, is a part of the MABEWO GROUP, which focuses on Clean Energy Solutions. MABEWO unites under its umbrella companies working on the development and operation of sustainable production processes. In doing so, it relies on renewable energy and efficient processes to conserve valuable resources such as land, water and nutrients. Learn more about MABEWO AG here.