In 1897, the introduction of mouth-nose masks marked a significant milestone in healthcare. Initially made from gauze bandages, masks and hygiene measures played a vital role in preventing infections. However, the use of masks should consider patient comfort and communication challenges. Despite potential drawbacks, masks remain crucial for global health.
Why the year 1897 is considered a milestone for protective measures in health care, with mouth-nose masks in medicine?
The 19th century is considered the time of the discovery of hygiene. For example, during a medical operation in Breslau, the famous doctor Johann von Mikulicz-Radecki used a mask. This first mask was made of a layer of gauze bandages for protection during the treatment of infectious patients, for example in cases of plague or diphtheria transmission. Sterility (asepsis) was the great goal. "This was the forerunner of the mouth-nose-protection masks that have been further developed in medicine and as occupational safety for the protection of others as well as oneself," says Max Leber, Managing Director of PPE Germany GmbH in Berlin.
The discovery of active infection prevention
The history of masks in medicine is fascinating because the use of masks led to active infection prevention when the connections were recognised. At the same time as Johann von Mikulicz-Radecki, the physician Carl Georg Friedrich Wilhelm Flügge (1847-1923) was able to prove the theory of droplet infection and further developed scientific hygiene and disinfection procedures. Doctors should be as silent as possible in the operating theatre. Managing director and mask expert Max Leber points out that in Europe and worldwide in the early 1900s, plague outbreaks (1910/1911 with 60,000 deaths, 1920/21 9,300 deaths) or the Spanish flu (1919-1920 with millions of deaths) shook people and caused them to die. Traditions confirm that even then there was protection for the workers with masks made of cotton and gauze bandages.
In the 1990s, the medical community discovered that masks from occupational safety, such as dust masks (type FFP1-3), could also prove their worth in medicine. Comparative studies of particle-filtering masks (FFP) and surgical mouth-nose protection (MNS) confirmed the assumption that there was a predominantly higher protective effect.
Global population health: hygiene and protective equipment
A long way to go, but today we know that consistent hygiene measures contribute significantly to the global health of the population. "Developments show that protective equipment complements hygiene standards to reduce the transmission of diseases from health workers to patients and vice versa," says Max Leber. But critically, potential effects of masks on patients still need to be considered, Max Leber points out.
Especially with long-term use, masks can make patients feel isolated and uncomfortable. Studies show that this can lead to stress and anxiety and affect the healing process. When healthcare workers wear masks, communication with patients is more difficult, especially for patients with hearing or speech problems.
In addition, mask use can also lead to physical discomfort, such as skin irritation or difficulty breathing, primarily when patients already suffer from respiratory problems. Precisely because the use of masks in the hospital setting continues to play an important role in infection prevention, the potential impact on the patient should be weighed against the benefits of mask wear. Max Leber sees the challenges with mask manufacturers, who should address the wearability challenges of masks to make them optimal for wearers from all health perspectives. "From the history of mask development, we see the potential for further innovation for medical protective equipment," says PPE Germany managing director Max Leber. Challenges exist for healthcare workers to feel safe and comfortable with their mask while communicating clearly with patients and conveying empathy without the interference of the mask.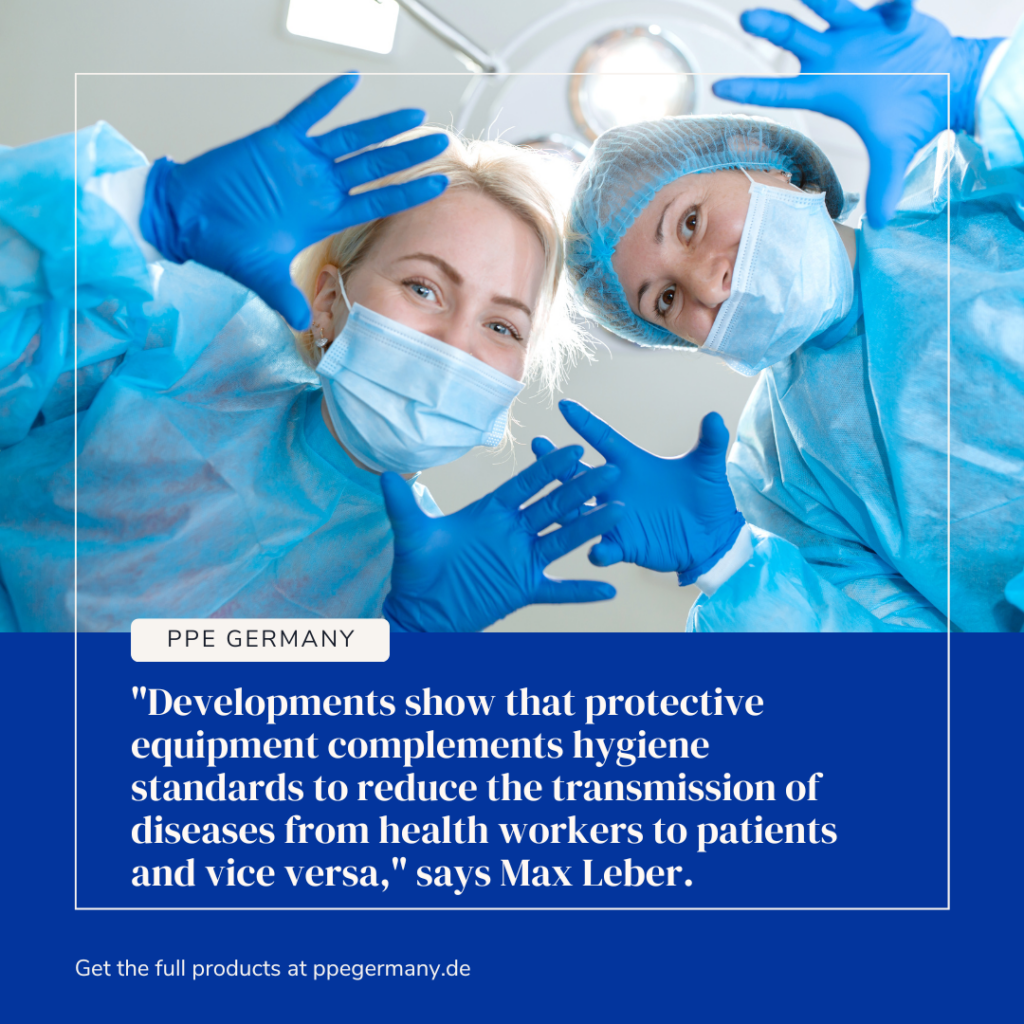 World Hand Hygiene Day – why on 5 May?
The World Health Organisation introduced World Hand Hygiene Day in 2009. "However, many people don't know that 5 May was not chosen for it by chance, because it stands for our five plus five fingers, i.e. 5.5," says Max Leber with a smile, solving the mystery and saying that the physician and hygiene founder Carl Flügge would be particularly pleased about this development. In summary, it can be said that the topic of hygiene already became a standard in antiquity. The infrastructure in antiquity before Christ already included bathhouses, sewage systems, public toilets and fresh water supplies, which were recommended as preventive measures to achieve a healthy lifestyle, as were gymnastics and diet. Hygiene is now firmly anchored in everyday life and in all industries. Cleanliness and hygiene for healthy coexistence and living is built on three pillars: Food and product hygiene, industrial hygiene and personal hygiene. Due to research, development and progress, many epidemics and diseases have been conquered since the development of hygiene standards. Nevertheless, World Hand Hygiene Day should remind us of the achievements and at the same time not neglect the benefits.
V.i.S.d.P.:
Moritz Roland
OTA Training & Blogger
Moritz Roland, a graduate of the English boarding school Rossall School in Fleetwood, Great Britain, with the International Baccalaureate Diploma (IB). Moritz is in vocational training OTA in healthcare. Moritz has been with ABOWI-Reputation.com since 2022. He is particularly interested in the transformation of healthcare – putting people's health first – through technology, digitalisation and artificial intelligence to holistic health from A–Z. The blog akopjan-health.de offers numerous topics on health and occupational health management. You can reach us at contact@abowi.com.
Contact:
PPE Germany GmbH
Mertensstr. 63-115
13587 Berlin
Germany
Tel: +49 30 202366380
Email: anfrage@ppegermany.de
Web: https://ppegermany.de
Contact: Max Leber, GF and Sales
Press contact:
PPE Germany GmbH
Mertensstr. 63-115
13587 Berlin
Germany
Phone: +49 30 202366380
Mail: presse@ppegermany.de
Web: https://ppegermany.de
Company Description:
PPE Germany GmbH, based in Berlin, are specialists in respiratory protection Made in Germany. PPE Germany is one of the major European mask producers for high quality FFP2 masks and started production in 2020 to ensure the supply of protective equipment to the population. PPE Germany protects the health of people who have to work and live in complicated air conditions, for example viral contamination, hospital germ contamination, bacterial contamination, dust, fibres (e.g. from mineral wool), industrial fumes, fine dust. All PPE Germany products are certified and subject to the strictest testing standards. Further information at: https://ppegermany.de